October 19th, 2020
COVID 19 Advice
In response to many questions from our patients we have compiled what we feel are some best practices for the Covid 19 pandemic. In order to protect yourselves we recommend wearing a mask in all public places. We recommend that gatherings over 10 people be avoided and when at all possible outdoor gatherings are preferred to any indoor gatherings. Social distancing over 6 feet should always be practiced both indoors and outdoors. Travel to states where the positivity testing rate is over 15% should be followed by a 14 day quarantine when you return. These rates vary and updated rates are posted on the Ohio board of health website weekly.
If you develop symptoms of infection with Covid 19 you should contact our office. We may recommend that you schedule a video or telephone visit with your physician to discuss your symptoms and set up testing for infection. We do not test for active infection in our office and will refer you to a testing site where testing can be performed safely. Symptoms are varied and may include cough, fever, shortness of breath, muscle aches, diarrhea, loss of taste or smell, etc. If you do test positive we recommend a 10 day self quarantine. You should keep in close contact with her office and report any worsening of symptoms in case hospitalization is required. At this time, treatment at home is supportive and symptom driven... control of fever with acetaminophen (Tylenol) or ibuprofen (Advil or Motrin), if you are able to take these, and over-the-counter cough suppressants. After you have completed 10 days of quarantine from the day of your positive test and you have not run a fever for 24 hours without any fever reducers and your symptoms have improved you may discontinue self quarantine. Follow up tests are not recommended at this time to gauge your risk of infectivity. Your test could be positive for weeks but does not indicate you were actively contagious.
If you've been exposed to someone with the virus but currently do not have any symptoms you may elect to get tested. Exposure means within 6 feet of the person for greater than 15 minutes. Due to the incubation period of the virus the timing of testing will dictate your possibility of infection. You may elect to self quarantine for 14 days after exposure and not get tested at all. If you do not develop any symptoms during those 14 days the risk of developing active infection is low, but not 0. If you do desire a test, we recommend waiting at least 5 days after exposure. You should self quarantine until your test results return. If your test is negative you still have about a 10% chance of developing infection during the next 10 days due to the variable incubation period (2-14 days). The longer you wait after your exposure until testing, the lower your risk of developing active infection after a negative test will be. This is why the simplest course of action maybe self quarantine for 14 days and no testing.
Hopefully this information may help you decide what is best in your particular situation. We encourage you to contact our office with any questions. The recommendations regarding this infection are constantly changing and these guidelines may change quickly.
December 1st, 2017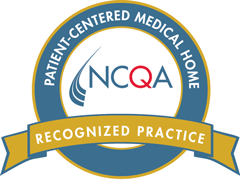 We are pleased to announce that Dayton Family Practice was recently certified by the National Committee for Quality Assurance (NCQA) as a Patient Centered Medical Home. NCQA's Patient Centered Medical Home Recognition Program is the most widely adopted Medical Home evaluation program in the country.
A Patient-Centered Medical Home is a care delivery model whereby patient treatment is coordinated through a primary care physician to ensure patients receive the necessary care when an where they need it, in a manner they can understand.
The objective is to have a centralized setting that facilitates partnerships between individual patients and their personal physicians, and when appropriate, the patient's family. Care is facilitated by information technology, health information exchange, and other means to assure patients get the indicated care when and where they need it.
The guiding principles of a medical home include, but are not limited to, same day access, extended office hours, continuous quality improvement, assessment of patient satisfaction, and individual case management when necessary. All members of our team are committed to this type of care delivery model.
February 12th, 2017

In January of 2017 Dayton Family Practice was selected to become one of approximately 1900 primary care practices across the country in the Comprehensive Primary Care Initiative, commonly known as CPC+. This is the nation's largest ever program to improve primary care. The program emphasizes patient centered care and continuous quality improvement. We are excited to be a member of this program and will be working to implement changes to improve our patients health care experience.
Dayton Family Practice continues to work on improvement in many quality and utilization measures. Over the last two years we have implemented multiple changes to our workflow in an attempt to improve areas such as preventive measures as well as clinical quality measures. Our practice has improved in many of these areas. Specifically, we improved our screening for Hepatitis C in the appropriate age group by 24%. We also improved our pneumococcal immunization rate by 44%. Our use of unnecessary antibiotics has improved by 32%. We are continuously practicing quality and utilization measurement and working to improve the health of our patients.
September 28th, 2016
We are excited to welcome our new physician, Dr. Zachary Denka. Dr. Denka Joined us in August of 2016 and is welcoming new patients.